Yo. Sweet news! My second official RPG Maker DLC graphics pack has been released.
The first pack that I made was called Old School Modern, and you can check it out here.
The new pack is an expansion on the first one, and it mostly includes a shitload of new characters, as well as battlers for nearly all of them. You can find it here.
But i've also got free shit for you guys! It's all in the style of these packs, so enjoy some compatible extras.
First off I have these two windowskins for use in RMVXACE. I think that they might have been added into the packs above, but I made them to be freebies, since they're versatile enough to be used in any "retro" double-pixel style. Of course, they use the same color palette as the OSM graphics so they'll look nice if you're using the packs.
You can download these images by right-clicking on them and saving them.

Those windowskins, and other free interface elements, can also be found on the OSM 2 store page. Check out the bonus link on that pace.
But wait! There's more.
I've also gone ahead and created a couple of unique characters as exclusive freebies for finalbossblues.com. Let's reward you guys for keeping up with the site.
These are the two characters that I've made for you guys. They also come with extra poses: nodding, headshaking, laughing, and down.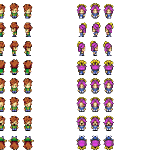 Click the image to download the full-size version.
And finally, here are the battlers for these two characters. These battlers match the style of the battlers in the OSM2 pack.
I hope you guys enjoy the graphics packs, and these free extras. Happy game making. :D