We've had huge success over the past two months on Patreon. One of the recent goals was met, and the reward was a new FREE TILESET. The patrons voted for a Jungle theme, and I'm releasing it today!
This jungle tileset is a FREE release for anybody to download.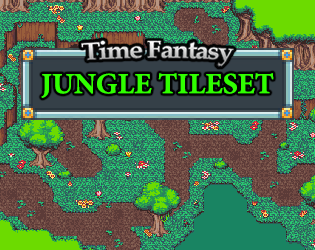 You can find the download page here on itch: Jungle Tileset
This tileset is a mini-expansion for the Time Fantasy RPG assets. It's compatible with all other graphics that I release  in my Time Fantasy style. Can also be used as a standalone tileset. This set includes versions formatted for use in RPGMaker VX/Ace and RPGMaker MV, as well as a regular tile-sheet based on a 16×16 grid.
If you want to support my work and contribute to more free releases in the future, check out my Patreon page. I really try to make it worthwhile– I'm no beggar– and always release lots of new content for patrons.
Thanks!